Multi-Gun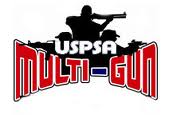 USPSA shooting's roots are handgun competition.  There is a division for just about everything [9mm/.38 or larger] out there.  There is also a fast growing segment of our sport called MultiGun – basically USPSA with handguns, rifle, and shotgun.
The USPSA MultiGun Supplement and the current USPSA Rulebook define one approach to MultiGun Competition.  It is a provisional supplement – good evidence of the evolution taking place in the sport.  It uses the same scoring software that is used in handgun competition, currently most matchs use Time Plus scoring.  Links to those resources are available on the USPSA Site
General Talking Points in Preparation for Multi-Gun Competition: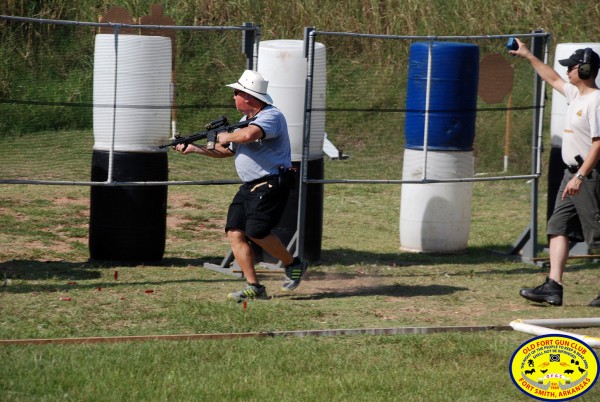 Gear:  Multi-Gun matches involve a lot of equipment and ammunition. A wagon, range cart, or something of that sort is highly recommended.
Carrying Ammunition: Anywhere you like on your person or on your firearm, except not in your hand. Many folks put carriers on their shotgun, forearm, or belt; rifles can have magazines tied together, on the belt, etc.
Ready Condition: Chamber loaded, magazine in, gun cocked, safety on. Bipods must be stowed and retracted. Sling must be in the carry position, not "wrapped and ready". Unless the position is stipulated for a course of fire, the gun may be mounted and pointing at the target, but the safety must be on and the finger off the trigger.
Targets: In addition to the usual IPSC targets, Multi-Gun allows the use of "miscellaneous targets" – flash targets, self-resetting targets, clays, etc. To "balance the scoring", you may see 10 point steel on certain stages.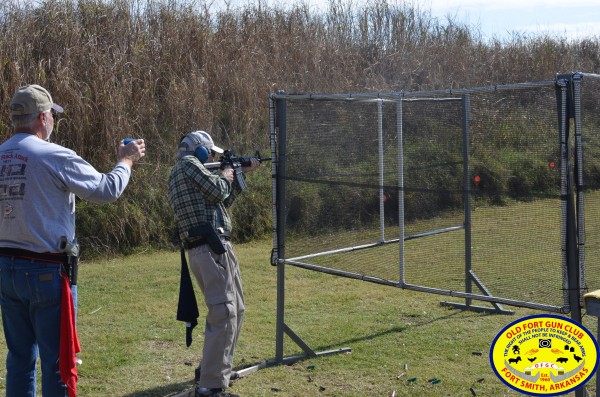 Gun Handling Policy: Obviously, long guns don't fit on a convenient holster.  When not in use, long guns should be in racks, or cases. When moving without a case, the approved position is muzzle up and chambers open or flagged. If carriers need to be filled up [for example, side saddles on a shotgun], do that away from the Safe Areas, and keep the gun handling to the absolute minimum required. The same rules apply to handling ammunition in a Safe Area – don't do it. Racks will be provided throughout the bays to hold long guns when not in use.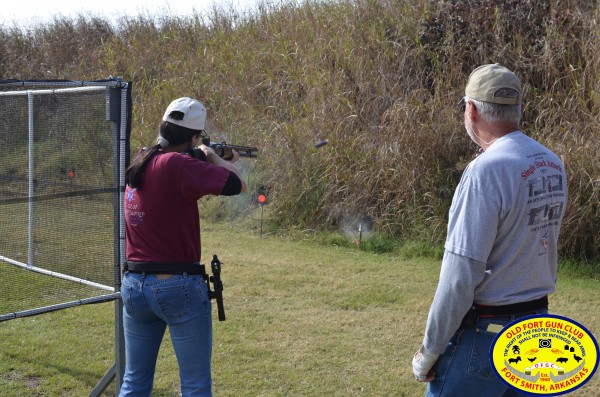 Reloading on the move: It's different with a long gun, and an easy way to DQ from the match. Add walls, doors, and ports and it is easy to run into trouble. Be careful!
Shotgun stages will primarily involve "pistol distances", though slugs may involve some longer shots. In no case, should steel be engaged with slugs at close distances – it isn't safe, and USPSA recommends that it be treated as a range failure and stop a shooter who inadvertently uses slugs on a close stage against steel targets. It is a significant safety risk.
Rifle stages may be shot on pistol bays at those distances and also may involve targets to as much as 300 yards.
Some of the courses may require a lot of shots – either a lot of targets, or a lot of make-up shots at long distance.  Barrels get very hot, so watch out.
Our Club Multi-Gun matches will involve 4 – 6 stages. For planning purposes it is recommended that shooters bring a minimum of 75 – 100 rounds each for rifle and pistol, 50 shotgun shells, and 15 – 20 slugs.
For more information select USPSA MultiGun on our contact form here
Location: Old Fort Gun Club River Range
Monthly on the Second Sunday
Shooter's Meeting at 9am