2017 Match Results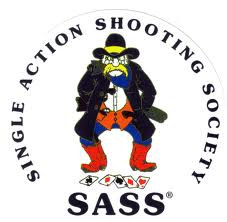 On the eve of the 2017 Eclipse, we had twenty four shooters on Saturday and eight on Sunday blocking out the sun with lots of gunsmoke and clanging of targets. CS Brady was the top shooter on both days with a total time on the six stages of 112.63 (Saturday) and 119.21 (Sunday). The competition was close with Cowpolk only two seconds slower on Saturday and Naildriver was only .25 seconds behind on Sunday. Both Cowpolk and CS Brady shot clean on Saturday along with Ambler and Holy Smoke Harmon. Naildriver was the only clean shooter on Sunday.
SASS Results Saturday Aug 19, 2017
SASS Results Sunday Aug 20, 2017
We had a good showing for our Fifth Weekend Shoot … twenty-two on Saturday and fifteen on Sunday. Cowpolk's dry fire practice helped him take top honors on Saturday with Willy Mescal outshooting all comers on Sunday. There were no clean shooters on Saturday, but I guess they figured out the stages for Sunday because 50% shot clean then. Congrats to Willie Mescal, Ambler, Belle Vaquero, Spitoon Paul, Alabama Bill and Trooper Dick.
SASS Results Saturday July 29, 2017
SASS Results Sunday July 30, 2017
This weekend was hot and muggy, but twenty-one tough cowboys came to the gunfight. CS Brady was the top shooter on Saturday with Holy Smoke Harmon, Cowpolk, Just Charlie and Geezer shooting all six stages clean. On Sunday, we had seven shooters with CS Brady again taking top honors. Ambler was the only clean shooter.
SASS Results Saturday July 15, 2017
SASS Results Sunday July 16, 2017
After nearly four inches of rain during the previous two days, some shooters probably feared the mud on the range road. Nevertheless, we had eleven brave souls who knew the weather would clear around 7:00am. Spitoon Paul was the top shooter in the Roy Rogers Category. It was great to see him out shooting after his open-heart surgery. Naildriver and Bad Luck shot clean matches. On Sunday the weather was sunny and a few more shooters attended. CS Brady again rose to the top of the pack with Cornbread Dan shooting a clean Match.
SASS Results Saturday May 20, 2017
SASS Results Sunday May 21, 2017
It was a great day for shooting this Easter weekend. The sun was shining and temperature hovered in the upper 70s and low 80s. We also had a good breeze, to keep the black powder shooters from whining. Despite this special weekend, we still had eighteen shooters with about half of them being the fast guns … those who shoot 20 seconds or less stages. Even with this stiff competition, Cowpolk came out on top with a total time of 109.87 seconds for the six stages. The stages were a little tricky and only Belle Vaquero and Holy Smoke Harmon shooting clean matches.
SASS Results Saturday Apr 15, 2017
For our annual Hell on the Border match, the weather was nearly perfect. For the first day of the State Wild Bunch Championship, we had a threat of rain, but none developed. Then on Saturday and Sunday for our Cowboy Hell on the Border Match (Saturday) and the final five stages of the Wild Bunch Championship on Sunday, the weather was perfect. We had over 150 shooters, great food and great fun. On Sunday, the 2017 Arkansas State Wild Bunch Championship finished up their ten stages with Shell Stuffer taking home the Overall Men Award and top Wild Bunch Modern shooter. Stump Man was the Arkansas Men's Wild Bunch Traditional Champion and overall Men's Arkansas Champion. Ain't Dunnit captured the Arkansas State Modern Championship. Mean Mary the Overall Ladies Winner and Wild Bunch Ladies Modern Category Winner. Garbage Gertie was the top Arkansas Lady Shooter and took home the Ladies Arkansas Wild Bunch Traditional Championship. Congrats to all.
AR State Wild Bunch Championship 2017
What a great weekend for shooting this past weekend. On Saturday, 31 shooters enjoyed the weather and many were getting tuned up for Winter Range. CS Brady was the top shooter with a Clean Match. Billy Broncstomper, Ambler, Quick Trigger, Wild Big Bill and Black River Jack also shot the six stages clean. On Sunday, we had fifteen shooter with CS Brady again taking top honors. Only Speed Wagon, Alabama Bill, Mud Puppy and Pony Soldier shot Clean Matches.
SASS Results Saturday Feb 18, 2017
SASS Results Sunday Feb 19, 2017
Saturday was a great day for shooting with 29 shooters. Creek County Kid was the fastest shooter with Stump Man, Texas Pepper and Trail Agent shooting clean matches. Sunday, on the hand, was stormy with lots of rain. Nevertheless, seven brave souls shot six stages from Miss Laura's and had a great time.
SASS Results Saturday Jan 21, 2017
SASS Results Sunday Jan 22, 2017