2017 Match Results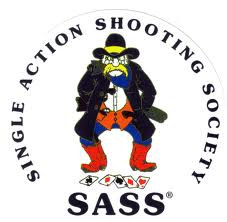 For our annual Hell on the Border match, the weather was nearly perfect. For the first day of the State Wild Bunch Championship, we had a threat of rain, but none developed. Then on Saturday and Sunday for our Cowboy Hell on the Border Match (Saturday) and the final five stages of the Wild Bunch Championship on Sunday, the weather was perfect. We had over 150 shooters, great food and great fun. On Sunday, the 2017 Arkansas State Wild Bunch Championship finished up their ten stages with Shell Stuffer taking home the Overall Men Award and top Wild Bunch Modern shooter. Stump Man was the Arkansas Men's Wild Bunch Traditional Champion and overall Men's Arkansas Champion. Ain't Dunnit captured the Arkansas State Modern Championship. Mean Mary the Overall Ladies Winner and Wild Bunch Ladies Modern Category Winner. Garbage Gertie was the top Arkansas Lady Shooter and took home the Ladies Arkansas Wild Bunch Traditional Championship. Congrats to all.
AR State Wild Bunch Championship 2017
What a great weekend for shooting this past weekend. On Saturday, 31 shooters enjoyed the weather and many were getting tuned up for Winter Range. CS Brady was the top shooter with a Clean Match. Billy Broncstomper, Ambler, Quick Trigger, Wild Big Bill and Black River Jack also shot the six stages clean. On Sunday, we had fifteen shooter with CS Brady again taking top honors. Only Speed Wagon, Alabama Bill, Mud Puppy and Pony Soldier shot Clean Matches.
SASS Results Saturday Feb 18, 2017
SASS Results Sunday Feb 19, 2017
Saturday was a great day for shooting with 29 shooters. Creek County Kid was the fastest shooter with Stump Man, Texas Pepper and Trail Agent shooting clean matches. Sunday, on the hand, was stormy with lots of rain. Nevertheless, seven brave souls shot six stages from Miss Laura's and had a great time.
SASS Results Saturday Jan 21, 2017
SASS Results Sunday Jan 22, 2017