Hunter Pistol/Cowboy Rifle
Hunter Pistol / Cowboy Rifle
Saturday Matches are 40 round matches and will start around 10:00 a.m with Check-in and Sight-in will begin at 9:00 a.m. Sunday Matches are 60 rounds matches and will start around 1:00 p.m. Match fees are $5.00 per gun and Classification Books are $12.00 for Pistol and another $12.00 for Rifle. This is a once a year purchase on classification books and is good at any NRA approved match for score keeping. First time club members are allowed to shoot free (one time only) and juniors are always free.
Allowed guns in Hunter's Pistol and SB Hunter's Pistol are any production pistol or revolver with a maximum barrel length of 12 inches and a maximum weight of 5 pounds, scoped or open sight. Only certain bottle necked cartridges are allowed; those are 22 Hornet, 32-20 Winchester, 25-20 Winchester. All ammunition must be loaded in such a manner as to not damage targets. Matches consist of 40 rounds being shot at 10 metallic animals at 4 different distances for a total of 40 targets. Chickens at 40 meters, Pigs at 50 meters, Turkeys at 75 meters and Rams at 100 meters. Any targets being knocked off the stand is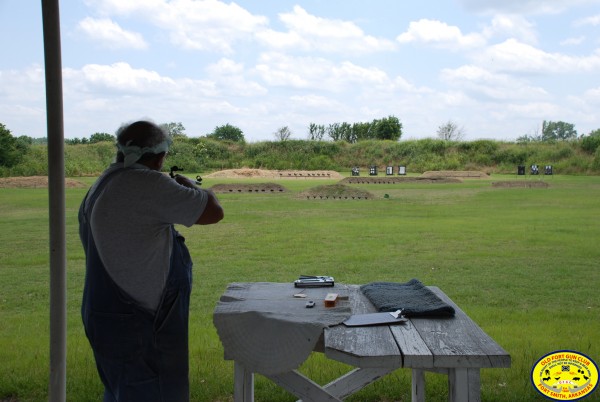 counted as a hit.
Cowboy Rifle Silhouette allows tube fed rifles only. Small bore CRS is limited to 22 long rifle only and Pistol Cartridge CRS is 22 magnum and larger. All ammunition are pistol cartridges only and must be loaded in such a manner as to not damage targets.
Bolt actions are not allowed in any discipline, but will be allowed as a club match entry. For additional info and rules contact the NRA Silhouette Department for a copy of the official NRA Hunter's Pistol Silhouette Rules.
For More information on Air Pistol matches see NRA Air Pistol Rules and or come to the matches.
Calendar for Hunter Pistol Cowboy Rifle
Old Fort Gun Club River 100 yard Range
Matches are on the 1st Saturday each month and the 2nd Sunday of the Month
February – December
Sight-in begins at 9:00 a.m.
Shooting begins at 10:00 a.m.
Cost $5.00 per gun and match
With Special Sunday Matches
View the OFGC Club Calendar for specific dates and information.
For more information select 
Hunter Pistol or Air Pistol or Cowboy Rifle
 on our contact form 
here